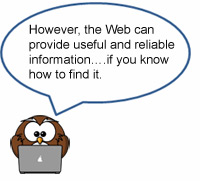 It is important to understand that the information found in databases such as Academic Search Complete (EBSCOhost) or JSTOR is NOT the same as the information found on the Web.

The information in databases is targeted and accurate, comes from authoritative sources and takes effort and time to compile. Because of this, the databases cost money, which the library pays to access the content—- content you cannot find on the Web. Because the Web is free and anyone can post information, there is little to no organization involved in Web information resources and most information is not evaluated for accuracy.




Search engines are the most common way people search the Web. Search engines are indexed by computerized programs (called "spiders") that crawl the Web searching for new Web pages. Most search engines contain millions of pages which are not organized into any discernible order. This often leads to the returning of numerous results which may have nothing to do with your original search. Therefore, search engines are best used for specific references, general facts and information, or information about specific people or organizations.
Examples of general search engines include:

If you have a specific subject or topic that you would like to research, it might be better to start by using a subject directory, which are organized by human beings (sometimes even librarians!) into subject-specific categories. Examples of subject directories include: