While this guide is designed to take you through the entire research process, each page stands alone as a separate guide. If you need to familiarize yourself with one or more particular aspects of research, such as citation styles or evaluating resources, you can use the navigation tabs to go directly to that particular page.
Why should you use this guide?

Get it right the first time! Learn the research process; it will save you time and reduce your stress level!




Answer the question "where do I begin?"




Manage your time by creating a personal assignment calendar.




Know that you're not in this alone. Help is available, find out where

.



Use this guide again to tackle other papers you will be assigned.




Continue to develop skills needed to research and write at the college level and make your life easier!

Quick Tips:

Be sure to give yourself plenty of time.

The sooner you start your research the more time you will have to complete and review the project prior to handing it into your professor. If you wait too long, you may not have enough time to properly develop your topic or to choose a topic that interests you.

Also, some students may need to use the same library materials as you; if you wait, it's possible the materials you need may be already checked-out to someone else. You also want to be sure you have adequate time with the materials to get as much information as you need to complete your assignment.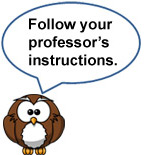 Research assignments will vary depending upon the program of study, the instructor, and the level of course-work. Your instructor will usually give you detailed instructions about the assignment, such as what information to include, the length and formatting of the paper (and do not triple-space or/and use large fonts -- professors can tell!), what your research topic might be, etc., which is often found in the course syllabus. Knowing this information before you begin can save you from wasting time from the start. If you have questions about the assignment or are unclear about any aspect of your project, please talk with your professor before you begin.