For more precise web searching, try Google Advanced Search, which allows you to search within a site or domain.
.edu will limit your search to accredited educational institution websites only.
.org will limit your search to non-profit organizations.
.gov will limit your search to government websites. For instance, the U.S. Environmental Protection Agency website is http://www.epa.gov.
To search only a specific website, enter the url for that website in the "Search within a site or domain" box. For example, putting http://www.who.int/ into that box and then typing in your keywords will search only the World Health Organization's website for those words.
Other options in Google Advanced Search include phrase searching as well as searching for certain file types such as pdf or Powerpoint.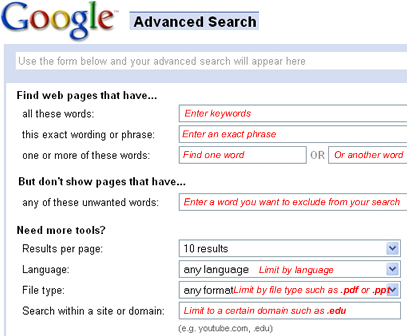 For more help:
INFOMINE: Scholarly internet resource collections
What is Google Scholar?