HELIN OneSearch is a new way to search multiple library research resources at one time. OneSearch allows you to search for books, ebooks, articles in research databases, DVDs, reference sources, and other online resources all from one search box. OneSearch is available from the main search box on the library webpage.
What is included in One Search?
HELIN library catalog: print books, journals, DVDs, and other materials available from all HELIN libraries
Articles from research databases: Articles included in both general and specialized research databases such as Academic Search Complete, JSTOR, CINAHL, PsycInfo, Lexis-Nexis, and many others.
Online resources: ebooks, online reference books such as encyclopedias and dictionaries from collections such as Credo Reference and Gale Virtual Reference Library, journal full-text collections such as Sage Journals, online videos from Films on Demand.
How do I login to OneSearch?
When you are off-campus, you will need to login to OneSearch in order to access subscription library resources that are restricted to Salve Regina University community members. You will see a pop-up box asking you to login or you can use the login button located on the top right corner of the Onesearch page. To login, enter your name (firstname lastname) and your library barcode number (the longer number on your Salve ID card). If you are an enrolled student, but do not have a Salve ID and need to know your barcode, please call the Circulation Desk at 401-341- 2291.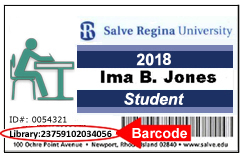 What is not included in OneSearch?
Not every database from every vendor is able to be integrated into OneSearch.Some specialized databases are currently not included for technical reasons. Each databases can still be searched individually through the Databases A-Z or Databases by Subject pages.

Does OneSearch replace the libary catalog?
No, the HELIN library catalog is still available in two formats, the Encore version or the classic catalog. To switch to the library catalog while in OneSearch, click the tab labeled HELIN catalog.
You can also switch to the library catalog while in OnSearch by using the limiter on the sidebar.
For those who prefer the previous version of the catalog (classic catalog), it is still available, but will no longer be fully updated with all online resources such as ebooks, which will instead be available through the Encore version of the catalog or in OneSearch. It will still include all print books available at the HELIN libraries.
For more assistance, ask a librarian.
Find books in OneSearch
Enter a keyword or title in the search box. You can then limit by format to books on the sidebar.
Find articles in OneSearch
Enter a keyword in the search box. You can then limit on the sidebar to articles, and further limit to only peer-reviewed or only full-text articles. OneSearch includes multiple research databases and will find articles from a large variety of sources.
Limit to Salve materials only
On the sidebar location limiter, choose Salve.
Request materials from other libraries
OneSearch includes books available at all HELIN libraries except Brown University Libraries. Items that can be requested will have a request button next to the title. Click on the request button, login to your library account (firstname lastname and library barcode number), then you can request the item you want to be sent to any other local HELIN library for pickup. You will be notified at your Salve email address when the item you requested has arrived.
Export citations to RefWorks
OneSearch supports exporting citation information directly to the online bibliographic management tool RefWorks. In an item record, click on the first quotation marks icon. RefWorks will open in another window and ask you to login. Once you login to your RefWorks account, the citation information will be automatically added to your RefWorks account.
Get the full-text of an article
In the search results, articles that are not readily available in full-text will have a button labeled "Find full-text/Interlibrary loan". Clicking on this button will link you to the location of the full article if it is available in one of our library databases. If it is not available, then it will link you to an interlibrary request form that you can fill out to request that we get the article from another library.