McKillop Library has four study rooms available: one on the second floor (Room 217), and three on the third floor (Rooms 304, 306 and 317).
Students may reserve these rooms ONLINE.
Study rooms can be booked for a maximum of 3 consecutive hours.
If a study room is not reserved, then it is available on a first-come-first-served basis. However, we will give priority to groups of three or more people.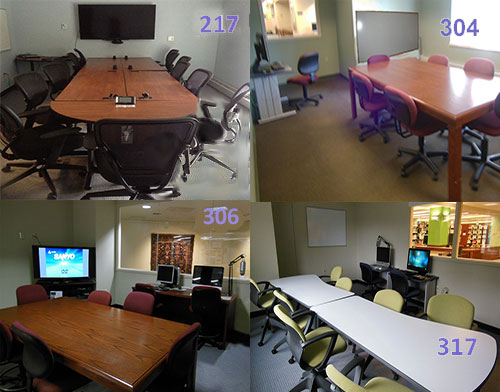 Room 217 includes:
60" flat screen display with Cable TV access
Connections for various devices/laptops for projection onto the display**
Conference-style table (seats 11)
Dedicated PC with wireless keyboard/mouse (attached to monitor)
Blu-Ray DVD Player
Webcam for Skype/video conferencing
Dedicated phone for teleconferencing
iMac computer
Dry-erase board( (magnetic)
Room 304 includes:
75″ LED flat panel display with dedicated PC, wireless keyboard and mouse
HDMI cable, VGA cable, and 3.5mm audio cables to connect laptops and other devices** to the display
Touch control panel
New larger and wider table — accommodates at least 6 comfortably
Dry erase board* (magnetic)
Two desktop PCs
Room 306 includes:
42" wall-mounted flat screen display with wireless keyboard and mouse, laptop connection cables**, Cable TV access
Desktop PC computer
iMac computer
Dry-erase board* (magnetic)
Room 317 includes:
Desktop PC computer
One iMac computer
Moveable tables and chairs
Dry-erase board* (non-magnetic)
*Dry-erase marker sets are available for checkout at the 1st FL Circulation desk.
**Laptop and mobile device dongles (Apple/Android) available at 1st FL Circulation desk.